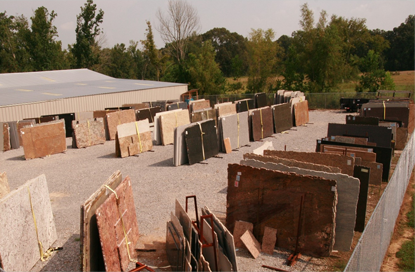 Granite Baton Rouge | Countertops and Flooring – Baton Rouge, LA
First In Counters services granite in the Baton Rouge Area with natural stone (granite countertops), cultured marble, portifino and Tile showers, and quartz surfaces. First In Counters has developed into one of the Baton Rouge la Areas premier fabricators of Granite, cultured marble, Tile showers and quartz surfaces. The family owned and operated company has built a reputation on impeccable craftsmanship, honest business and satisfied customers since 1974. All you have to do is ask around and the locals will tell you that we are the best and longest standing granite company around!
We have some of the highest quality machinery that the industry offers in order to turn your dream granite into a reality. We offer every color granite you can imagine, stop by our photo gallery to see some of our best granite countertops. Also we offer 8 different edge profiles including bullnose, double bevel, eased, standard, flat, demi-bullnose and Ogee.
We strive for the highest standards in merchandise and service. From the planning process to the installation, we take great pride in the detail! We hope you enjoy exploring our web site and look forward to working with you on your next project. Be sure to click below to get an estimate. Stick around for a while and let us know how we can best service you and your family!
Mission Statement
"First In Counters" strives to develop quality products for customers with a respected name that comes with years of excellent customer service and experience. We employ hard working individuals in the market area in order to give back to an economy that embraces such.
Our mission is to treat each person in our business with integrity that honors their uniqueness. Our goal is to be able to create the realm of reality from individual visualization.